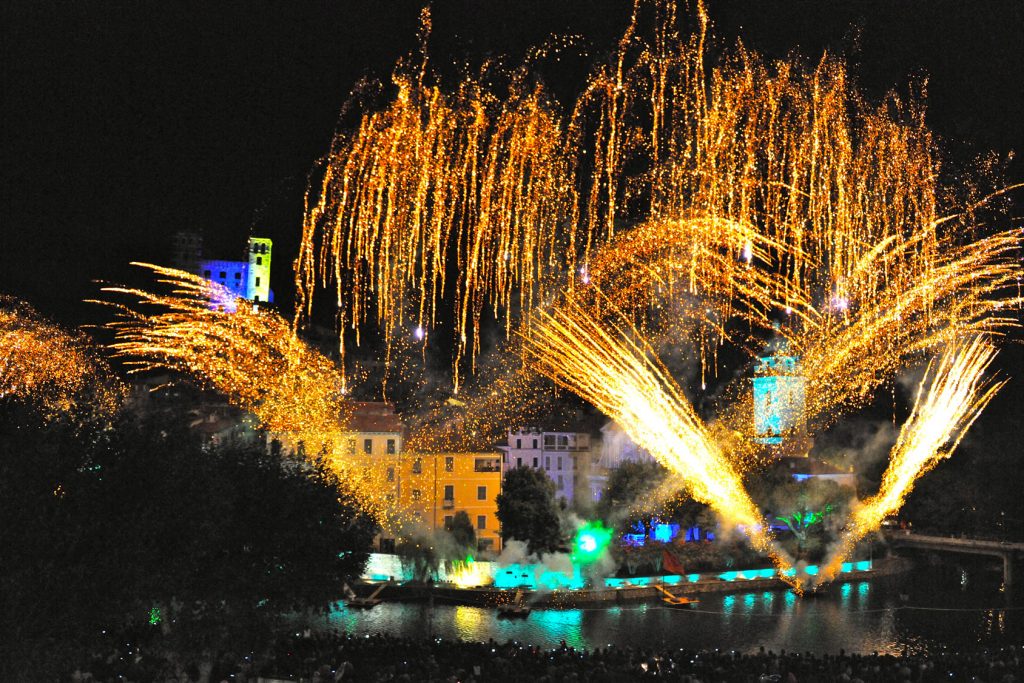 Sights, cultural monuments and events for over 2000 years
Liguria is one of the oldest settlements in Europe and remains from the past can be found everywhere, in Dolceacqua with the ruined Doria Castle and medieval bridge once famously painted by Monet, Ventimiglia with its Roman theatre dating back to the 2ndcentury, the San Michele church from 1100, the Benedict Monastry S. Fruttuoso in Camogli, the rock grottos in Troiano, the San Paolo Fort from the 13thcentury or the archeological museum and the spires of historically important Albenga.
The summer is one big celebration. Village Fêtes with dance on the piazza, music festivals, some featuring high profile artists in Cervo, world class fireworks in Dolceacqua, the song festival in Sanremo. The glamorous Sporting Club in Monaco where the stars can be seen mingling and for friends of the opera, there is the Opera Monte Carlo. The festival of ancient music in Ventimiglia, international chamber music festival in Cervo, classical concerts and contemporary theatre in Apricale and Dolceacqua, Sebastians Celebrations and processions.
All along the Côte d'Azur and throughout Provence there are museums and galleries showing artworks of well known artists as this area has always been a center for artists from around the world. There is the Picasso museum (Antibes), Museum Léger (Biot), the Renoir Museum (Cagnes-sur-Mer), the Chagall Museum, the Matisse Museum (Nizza) and the Fondation Maeght (St. Paul de Vence).